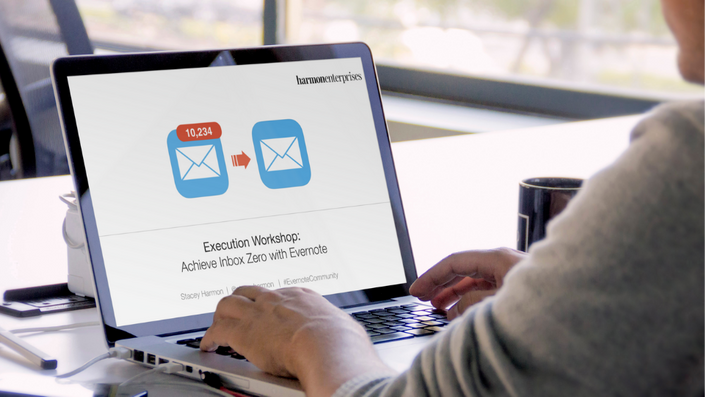 Achieve Inbox Zero with Evernote
Reclaim control of your inbox and create the space to focus on what matters to you.
Your Gmail is a mess. You're ready to fix that.

Get the help you need to get your inbox to zero and then keep it there!
In this 2-part training series, you'll learn:
The secrets of those with inbox zero
Strategies for keeping irrelevant emails and junk out of sight
Simple habits to manage ongoing email overload
Tips on how Evernote supports an inbox zero habit – for life!
Part 1 presents the foundational basics and strategic underpinnings to create and maintain inbox zero.
In part 2 of the training, we roll up our sleeves and get it done.
You'll walk away with inbox zero!
"Mission accomplished! I have inbox zero!! I'm a little emotional!!!"
Achieve Inbox Zero with Evernote is an online course that:
1) gets you to inbox zero during the course and
2) teaches you the skills to maintain inbox zero forever
"This training is awesome Stacey, Thanks. You have changed my life. My inbox is empty and I'm drinking red wine on a train on the west coast mainline in the UK. If not for your help I wouldn't be!"
What's Included:
Part 1:
60 minutes of video training introducing the philosophy and strategies behind creating inbox zero
Specific tips to control email overwhelm and put you back in control of your inbox
Part 2:
90 minutes of easy to follow, detailed video training on how exactly to get – and maintain – inbox zero
Worksheet that includes:

step-by-step instructions to get you to inbox zero
step-by-step instructions (with screenshots!) to optimizing your gmail account settings

Live demos of all the Gmail integration options with Evernote
Watch and learn: Stacey shows you how to processes your inbox using key commands to maintain inbox zero
"Whoa...I'm at inbox zero! I feel 20 years younger!"
"Thanks for an excellent presentation. So clear and simple – I just never thought about some of the strategies you provided."
Frequently Asked Questions
What is the difference between Part 1 and Part 2?
Part 1 teaches you the strategies and concepts that are required to create and maintain inbox zero. It also gives you an overview of Evernote's email integration options. Then we take action in part 2 which walks you step-by-step through executing on the strategies and concepts you learn in part. You also get real-time demonstrations of the Evernote email integrations and the strategies taught.
What email platform does the training feature?
Part 1 applies to whatever email app you use and part 2 is focused specifically on Gmail in the Chrome browser. If you have another email app, you'll need to adapt the training.
Will I REALLY have inbox zero by the end of the training?
YES! It's the core promise of this course. When you follow the simple methodology taught, you achieve this promise. (Hint: Your inbox zero transformation will happen in part 2 of the training, about 30 minutes in!)
What is your refund policy?
We stand behind our products and your satisfaction with them is important to us. However, because our courses are live classes and digital goods delivered via the internet, we offer no refunds. The purchaser is responsible for researching the product offer and teaching style prior to purchase (review Stacey Harmon's videos on YouTube to learn if you like her teaching style - youtube.com/harmonenterprises).
How long do I have access to the course?
How does lifetime access sound? After enrolling, you have unlimited access to this course for as long as the course exists - across any and all devices you own.
"Watching this blew my mind. I now know how to process the emails to inbox zero. This training is very good! Thanks Stacey!"
Your Instructor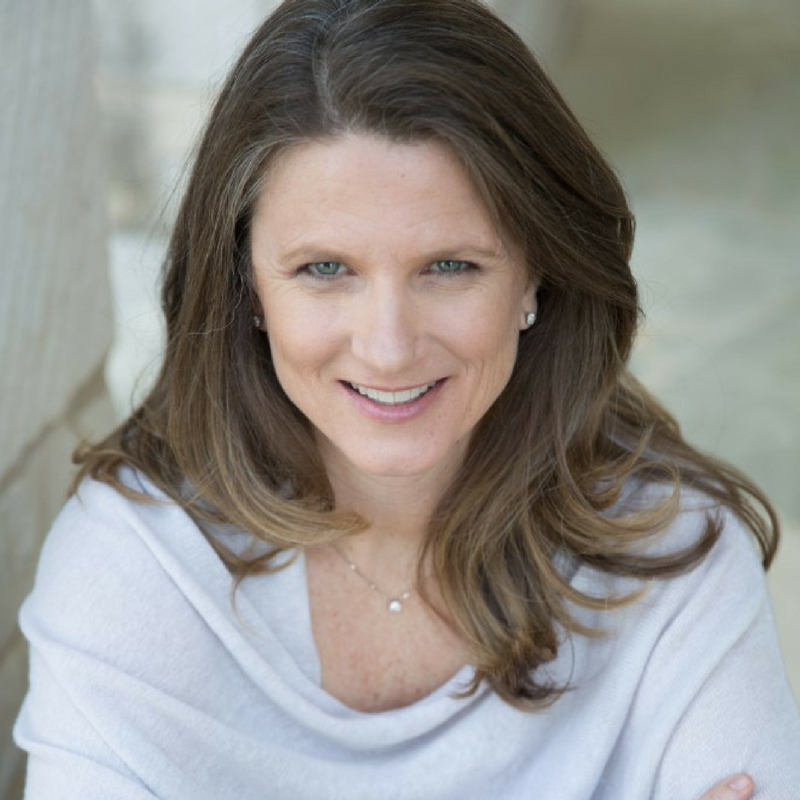 Stacey Harmon is a productivity coach on a mission to empower you to be effective and organized in a digital world.
She is an Evernote Certified Consultant, Evernote Regional Leader and GTD® practitioner with a flair for systems, organizing, and teaching.
Her company, Harmon Enterprises, offers Evernote training products, workflow designs, and coaching for busy and overwhelmed people looking to optimize their productivity and improve their lives.
Thanks to Evernote, Stacey is location-independent and takes her office with her wherever she goes — Amsterdam, Lake Tahoe, Bali, to name a few fun places. When she's not indulging her sense of wanderlust, you can find her in Austin, TX enjoying the growing Austin dining and whiskey scene, attempting CrossFit, walking the local trails with her favorite borrowed dog LuLu, and constantly exploring all that "keeps Austin weird".
"This training is taught in a way that made sense for me to apply. It certainly makes things easy, and time-efficient. I CAN get "inbox zero" daily! Thank you, thank you!"
Enrollment is open - join now!
"Thanks Stacey for a very informative and organized training 👏"